Replace Missing Teeth and Promote Oral Health
Dentures can change your life. If you're suffering from the effects of missing teeth in Frisco, you're not alone. According to the American College of Prosthodontists, over 40 million people in the country are missing all their teeth. Not only can having gaps in your smile impact your oral health, but it can also wear down your self-confidence, causing you to avoid social settings because you're embarrassed by your missing teeth. That's why, at Stonebriar Smile Design, we offer fully customized prosthetics made from the highest quality dental materials. You deserve a high quality of life and a smile you love. Stonebriar Smile Design's dentures look completely natural. Our dentures help you regain the complete function of your teeth, making it easier to do basic daily tasks such as speaking and eating. If you're looking for a dentist in Frisco, Texas, who offers beautiful and functional dentures, look no further than Stonebriar Smile Design. Give us a call to learn more.

Why Is It Important to Replace Missing Teeth?
Using dentures to replace missing teeth has many benefits, including a more fulfilling life, increased confidence, and a healthier mouth. Having gaps in your smile can lead to a variety of oral health issues, which is why we strongly suggest that our patients look into restorative treatments as soon as possible. Here are some reasons you'll want to fill gaps in your smile:
Prevent remaining teeth from slowly drifting out of place and causing bite misalignment.

Preserve your facial structure.

Reduce your risk of developing gum disease and losing additional teeth.

Improve your ability to chew and digest your food properly.

Improve your speaking.
The Effects of Missing Teeth
Patients seek out dentures to avoid further tooth loss and prevent severe oral health problems. Tooth decay, gum disease, and injuries are all causes of missing teeth, but no matter the cause, restoring them is crucial to your future wellness. When you have missing teeth, speaking, eating, and smiling are awkward and challenging, and the absence of teeth can result in jawbone erosion, which can make you look older as it changes the shape of your face.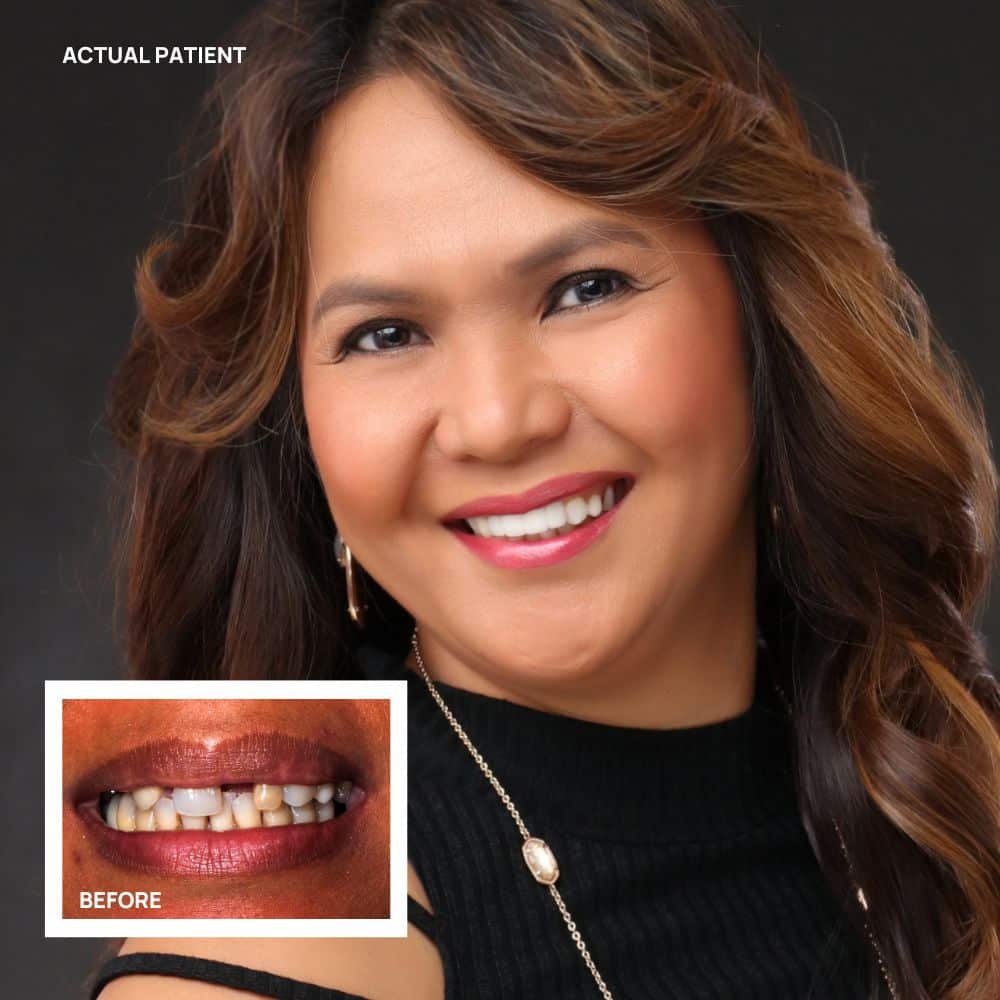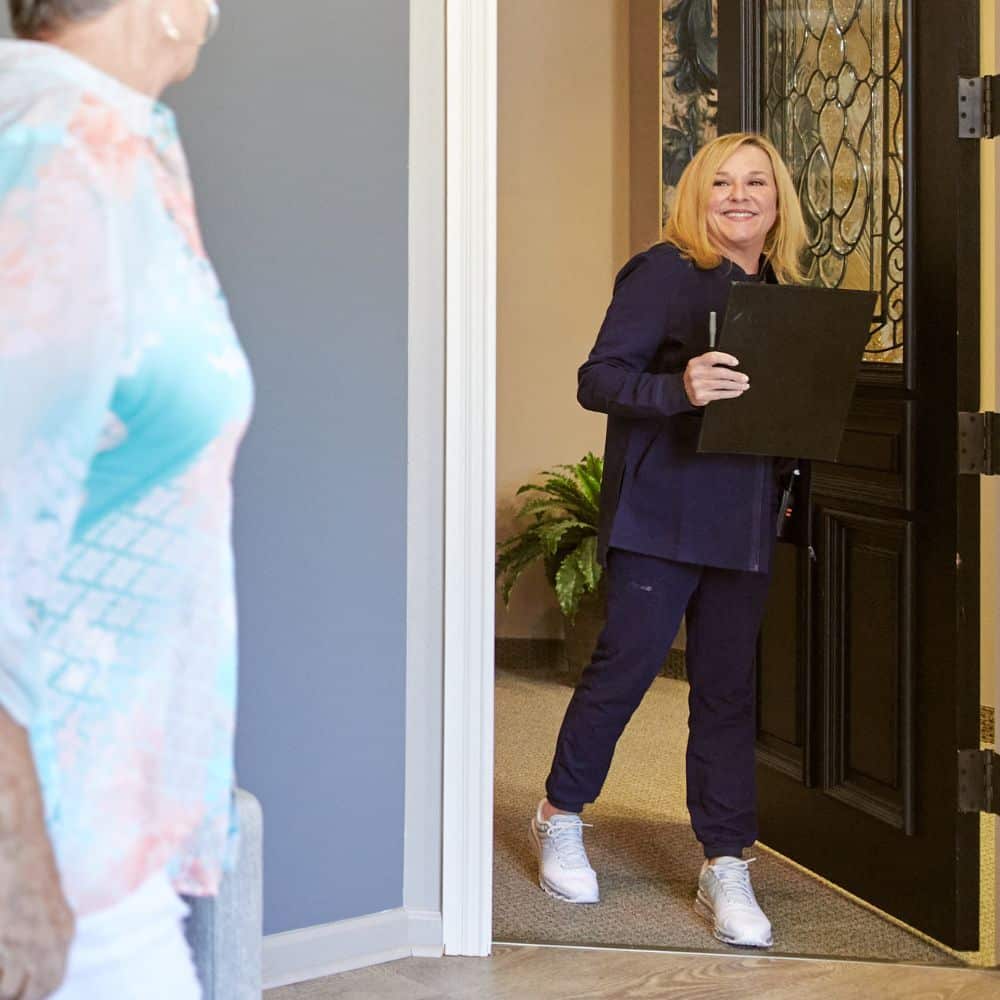 Who's a Good Candidate for Dentures?
If you have missing teeth, dentures are an excellent option. To find out if you're a good candidate for dentures in Frisco, Texas, schedule a consultation with one of our highly skilled dentists. During your appointment, we will assess your mouth and determine if the treatment is right for you. If you have major tooth loss and are committed to appliance care, you might be a good candidate. However, if our dentists recommend against dentures, your unique smile will be in our care. We will suggest alternative dental restorations and walk you through the options so you feel empowered to make the best choice for your oral health and lifestyle. Schedule your dentures assessment today.
What are Dentures Made Of?
Dentures are comprised of two principal parts: the base and the artificial teeth. Each component is necessary for the overall prosthetic to work:
Denture Base – A denture's base is the gum-colored part that rests on your mouth tissue. Labs can make a base from varying materials (acrylic, porcelain, etc.) but will choose the substance based on the type of denture needed.
Artificial Teeth – Per their name, artificial teeth are a denture's tooth-replacing portions. They're typically made from resin or porcelain for a lifelike look. Depending on which of the two substances is used, the teeth can vary in appearance, lifespan, and more.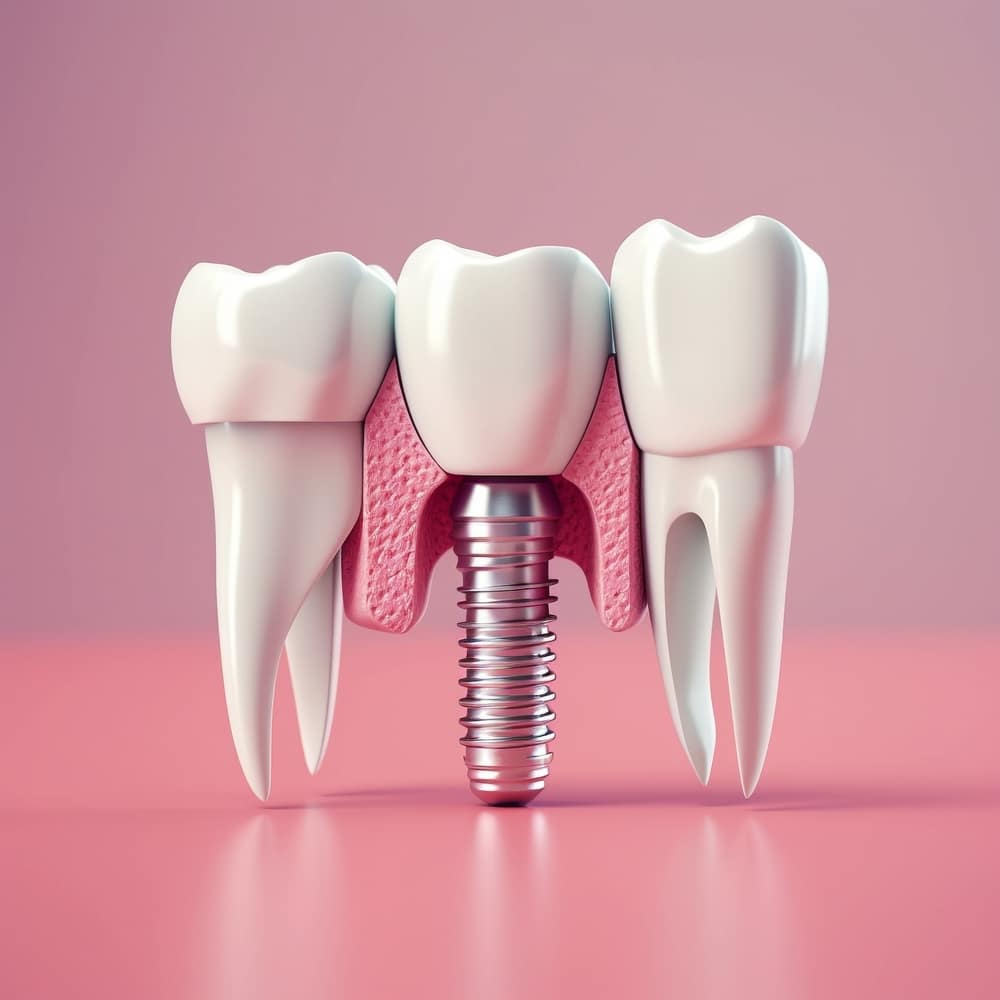 At Stonebriar Smile Design, we offer a variety of denture options to address varying levels of tooth loss and to accommodate personal preferences and needs. All of our prosthetics are made from durable, high-quality materials that you can count on to last for many years to come. Depending on your circumstances, we may recommend one of the following: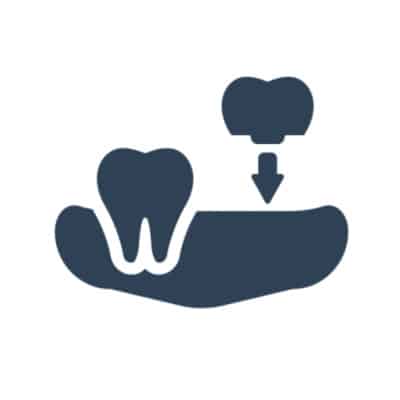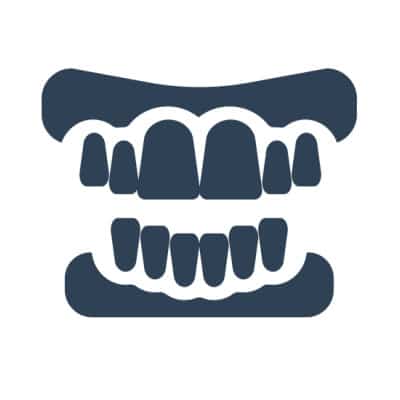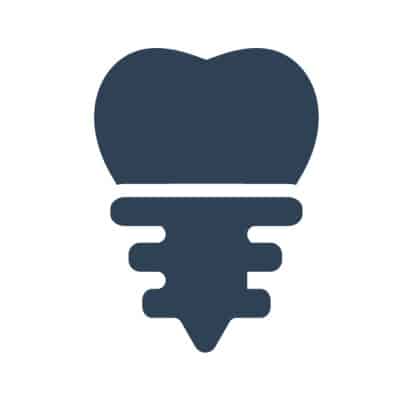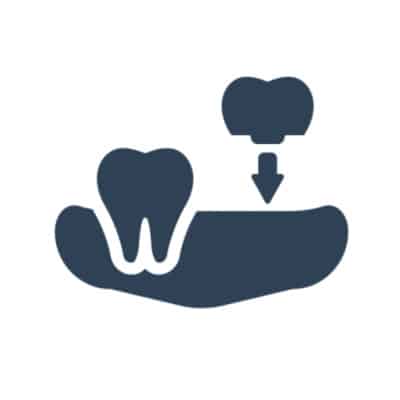 Partial Dentures
For patients who are missing several teeth in an entire arch, we'll suggest getting partial dentures in Frisco. These have a customized base that's made of either acrylic or plastic and are designed to fit discreetly around your remaining teeth, holding your artificial ones securely in place. Attached to the base are natural-looking replacement teeth that are built to function and look just like your home-grown pearly whites. Like a carefully-crafted puzzle piece, a partial denture fits between your healthy teeth to seamlessly fill the gaps in your smile.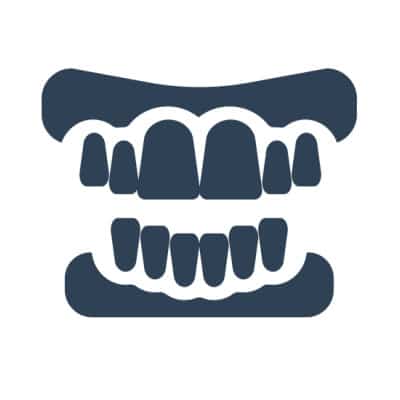 Full Dentures
Full Dentures
For our patients who are missing an entire arch of teeth, we'll likely suggest restoring them with a full denture. This is a specially designed prosthetic that consists of a gum-colored acrylic base crafted to fit with your unique dental structure using natural suction and denture adhesive. Attached to the base there are artificial teeth made from natural-looking materials such as ceramic and porcelain. These are crafted to look identical to your remaining natural teeth.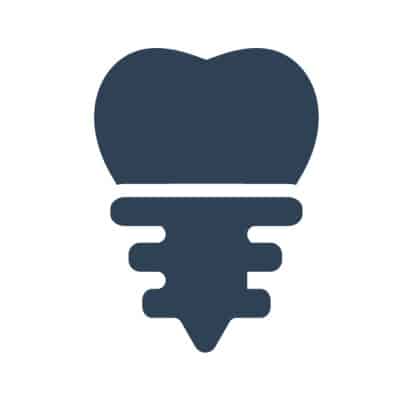 Implant Dentures
Implant Dentures
Full and partial dentures can both be paired with state-of-the-art dental implants for unmatched results. This revolutionary way to replace missing teeth uses small titanium posts to replace the roots of your missing teeth and anchor your denture firmly into place. You'll enjoy a strong, stable, and comfortable smile that has the potential to last for decades! During your consultation, we'll review several factors to see if you're a good candidate for implant dentures.
Our denture specialists fully customize each dental restoration to the patient's mouth. The highly customized multi-step process to create dentures includes these eight steps:
Step 1: Your dentist takes a digital dental impression of your upper and lower gums and then sends the results to a lab where they use the 3D model of your teeth to manufacture wax dentures.
Step 2: After the lab crafts wax dentures, your dentist will use these temporary restorations as a test run. If you are satisfied with the look and feel, the restorations are sent to the lab for completion.
Step 4: A technician boils the dentures to remove their wax portions. They then place the appliance in a flask to pour plaster. From there, the flask is placed in hot water to melt the dentures.
Step 5: The lab worker makes holes in the artificial teeth so new material can attach. A liquid separator is also added to the plaster layer to prevent the acrylic from sticking. The same acrylic is then injected into the flask to replace the wax.
Step 6: The worker removes the plaster to reveal the prosthetics. Later, they place the dentures in an ultrasonic bath to remove leftover plaster.
Step 7: After cutting away excess acrylic, the technician polishes the restorations and sends them back to Stonebriar Smile Design.
Step 8: The patient returns to the office for fitting and final adjustments.
The Benefits of Dentures
Dentures are so effective at replacing missing teeth that they boost your quality of life! You can also count on dentures to be more affordable than other restorations. As such, they're an excellent option for those on a budget. Here are several benefits of dentures:
Psychological Benefits
Admittedly, most people struggle to accept tooth loss. That's only natural! Being without teeth can be an unnerving experience. Consequently, those with it may experience low self-esteem and body image. From there, they might feel too anxious to socialize and thus develop depression.
Thankfully, dentures often improve a patient's mood. The prosthetics restore your entire smile, inspiring high confidence and low anxiety. You'll feel more relaxed about your looks, speech, eating ability, and more.
Clearer Enunciation
Speaking without pearly whites is challenging because teeth help position your lips and tongue as you talk. Lacking even a few teeth makes many words nearly impossible to say.
Dentures act as substitute teeth that support your tongue and lips while you speak. After the initial adjustment period, your new teeth allow you to speak more naturally.
Improves Nutrition
Missing teeth can cause you to follow a more restricted diet. You may decide that healthy foods with tough textures – veggies and fruits, lean proteins, etc. – are too difficult to chew. If that happens, you'll likely suffer malnutrition, indigestion, or both.
Dentures prevent that outcome. Their materials let patients chew food almost as well as natural teeth. The restorations then widen your dietary options and ensure proper nutrition.
Preserves Oral Health
Smile gaps left behind by tooth loss are breeding spots for harmful bacteria. On top of that, these gaps cause misalignment of other teeth and can lead to further teeth loss. Dentures prevent nasty germs and unwanted shifting, improving your overall oral health for the long haul.
Improve Connections
A beautiful smile makes the right impression! Most people notice a person's teeth before looking at anything else, so having healthy teeth and gums is important. A straight, white smile can improve your connection with friends, family, co-workers, and others. Dentures allow people suffering from major tooth loss to smile confidently, knowing their realistic, tooth-colored restorations are unnoticeable to the untrained eye.
Alternative Tooth-Replacement Options
If you're not a good denture candidate, there's no need to worry. Our office in Frisco offers several other tooth-replacement options.
Depending on your needs, we can provide the following:
Dental Bridges: Dental bridges are fixed restorations that replace one or a few teeth. They're usually made up of two (or more) crowns affixed to healthy, neighboring teeth.
Dental Implants: Dental implants are restorations placed directly in your jawbone. Due to relying on titanium bases, they naturally fuse with your jaw over time. They're permanent and comfortable but are more expensive than traditional dentures.
Alternative Tooth-Replacement Options
If you're not a good denture candidate, there's no need to worry. Our office in Frisco offers several other tooth-replacement options.
Depending on your needs, we can provide the following:
Dental Bridges: Dental bridges are fixed restorations that replace one or a few teeth. They're usually made up of two (or more) crowns affixed to healthy, neighboring teeth.
Dental Implants: Dental implants are restorations placed directly in your jawbone. Due to relying on titanium bases, they naturally fuse with your jaw over time. They're permanent and comfortable but are more expensive than traditional dentures.
Adjusting to Your New Dentures
When you first get dentures, wearing them may cause minor discomfort. You might even feel sore and have difficulty with speaking and eating. Even so, trust that these symptoms are normal. The aches should fade as you adjust, and your dentures will soon feel similar to natural teeth.
That being said, there are ways to speed up the adjustment. One option is only to eat soft foods for a while. You could also practice some facial exercises or experiment with adhesives.
Whatever you do, take note if the discomfort persists. Should that happen, it's best to see a dentist at once. Your dentures might need further adjustment in that case.
Understanding the Cost of Dentures
Dentures in Frisco offer a quick and cost-effective way to restore the function and beauty of your smile. Just like no two smiles are exactly the same, each denture is unique, meaning the cost will depend on a patient's unique needs and preferences. The best way to discover how much your denture will cost is to see us for a consultation. We'll evaluate your oral health and discuss your smile goals for a personalized estimate.
Dentures Aftercare
Dentures have the power to enhance both the look and functionality of your smile. However, even if you have few or no remaining natural teeth, you should avoid neglecting regular visits to our practice. Our team will carefully monitor any remaining teeth and the health of your gum tissue. Additionally, we will diligently check for any abnormalities that could indicate oral cancer.
If you want your newly transformed grin to last as long as possible, you need to make sure you're following proper aftercare instructions.
Removable Dentures Aftercare
All-on-4 Dentures Aftercare
Do you have all-on-4 dentures? Here are the advised guidelines to effectively care for your new smile and promote good oral health:
Dentures Frequently Asked Questions
Getting dentures in North Texas does come with some questions. Thankfully, our dedicated and personable team is here to help you understand the process from start to finish. To make sure you're receiving the restorative treatment that's right for your unique smile, we've taken the time to address some common concerns by answering a few of the questions that we get asked here at Stonebriar Smile Design. If you don't see the information you're looking for, don't hesitate to give us a call and we'll be happy to help!
HOW CAN I ADJUST TO WEARING DENTURES?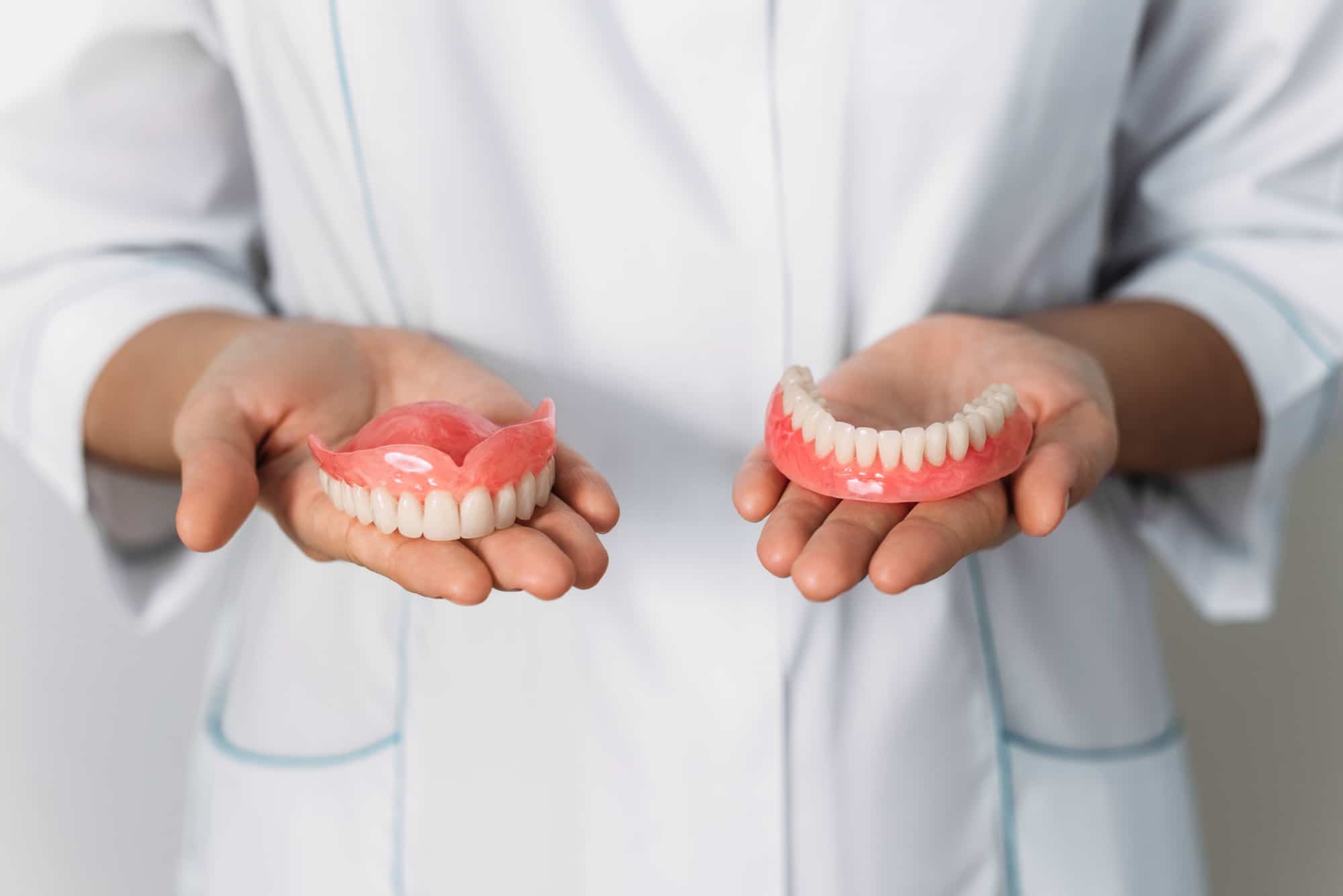 When you're first fitted with your dentures, it can take some time, usually a few weeks, before your mouth grows fully accustomed to the new appliance inside it. As uncomfortably as it may be at first, you must continue to wear them throughout the day to help your mouth get used to them. Here are some tips to help speed up the adjustment process:
Cut your food into small pieces and chew evenly with both sides of your mouth.
Apply a small amount of denture adhesive to help them stay in place.
Exercise your cheeks to give you more control over your dentures.
Practice reading your favorite book out loud.
HOW MUCH DENTURE ADHESIVE SHOULD I USE?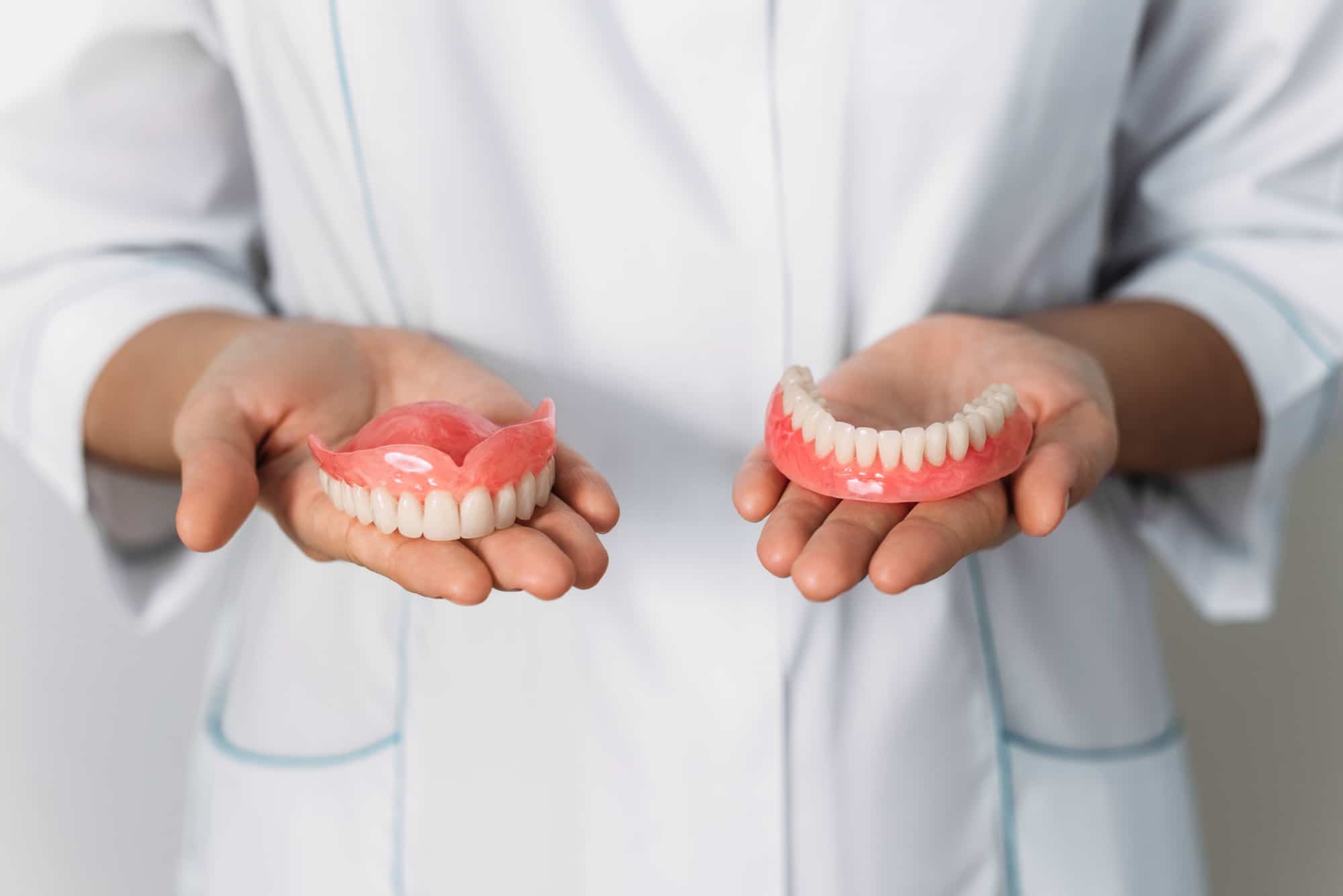 Before you apply any adhesive, it's important that your dentures are clean and dry. To ensure even coverage, start by placing a series of small dots or strips of adhesive on the dentures. Make sure to avoid applying it too close to the edges, as that can make it more difficult to remove your dentures come bedtime. For a secure fit, press and hold your dentures firmly in place for a few seconds.
HOW DO I KNOW WHEN MY DENTURES NEED TO BE ADJUSTED?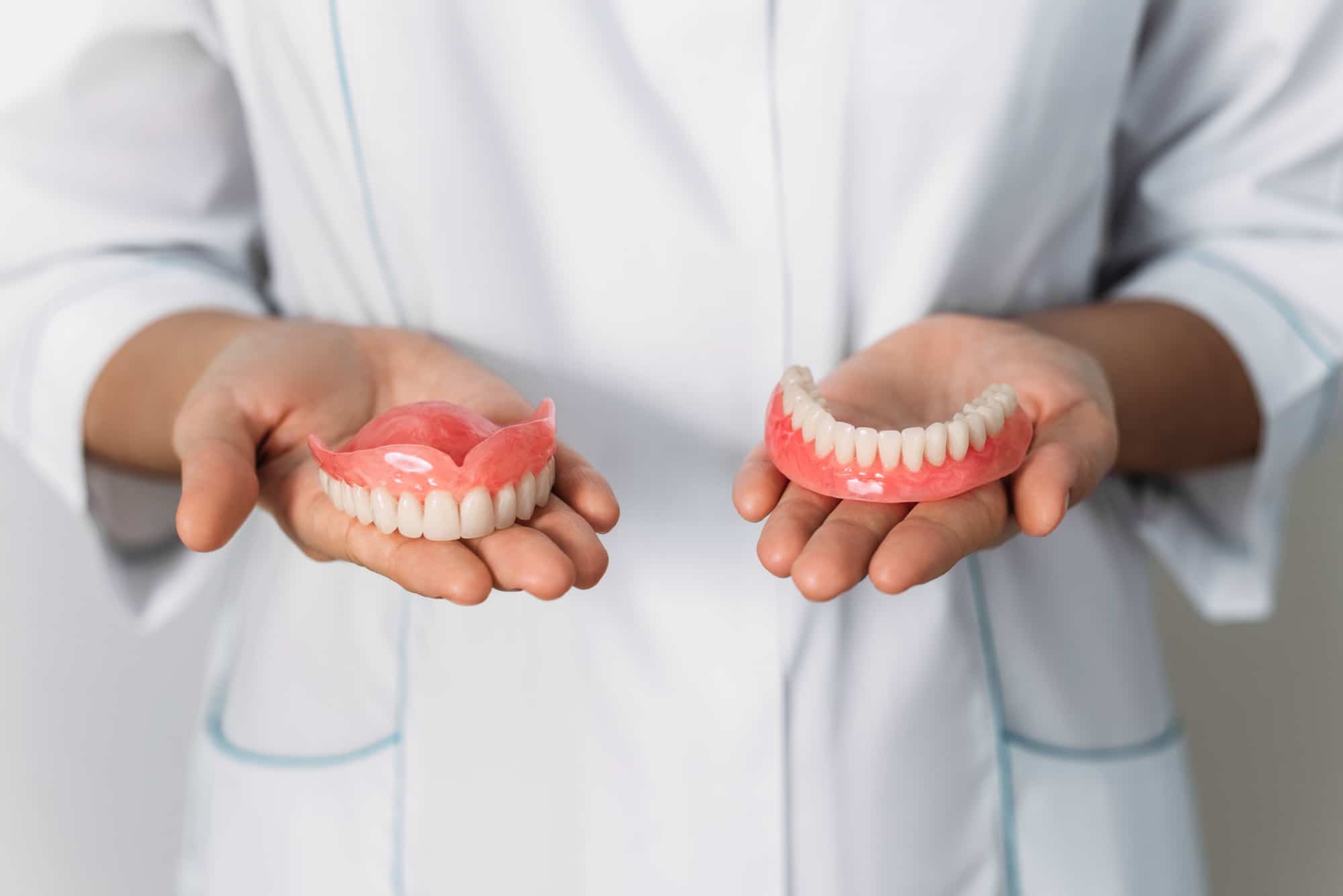 Costs for preventive services like checkups and cleanings will largely vary depending on a few key factors. For example, the geographical location (i.e. cities vs. rural areas) as well as your current oral health can influence the final price. During a checkup, our dentists go over patient health history and discuss any concerns they may have. Then, we'll perform an exam, cleaning, X-ray, and oral cancer screening. On average, dental checkups fall between $200 and $350. While we are happy to help you use dental insurance, we will always provide recommendations based on what is best for your health.
HOW DO I KEEP MY DENTURES CLEAN?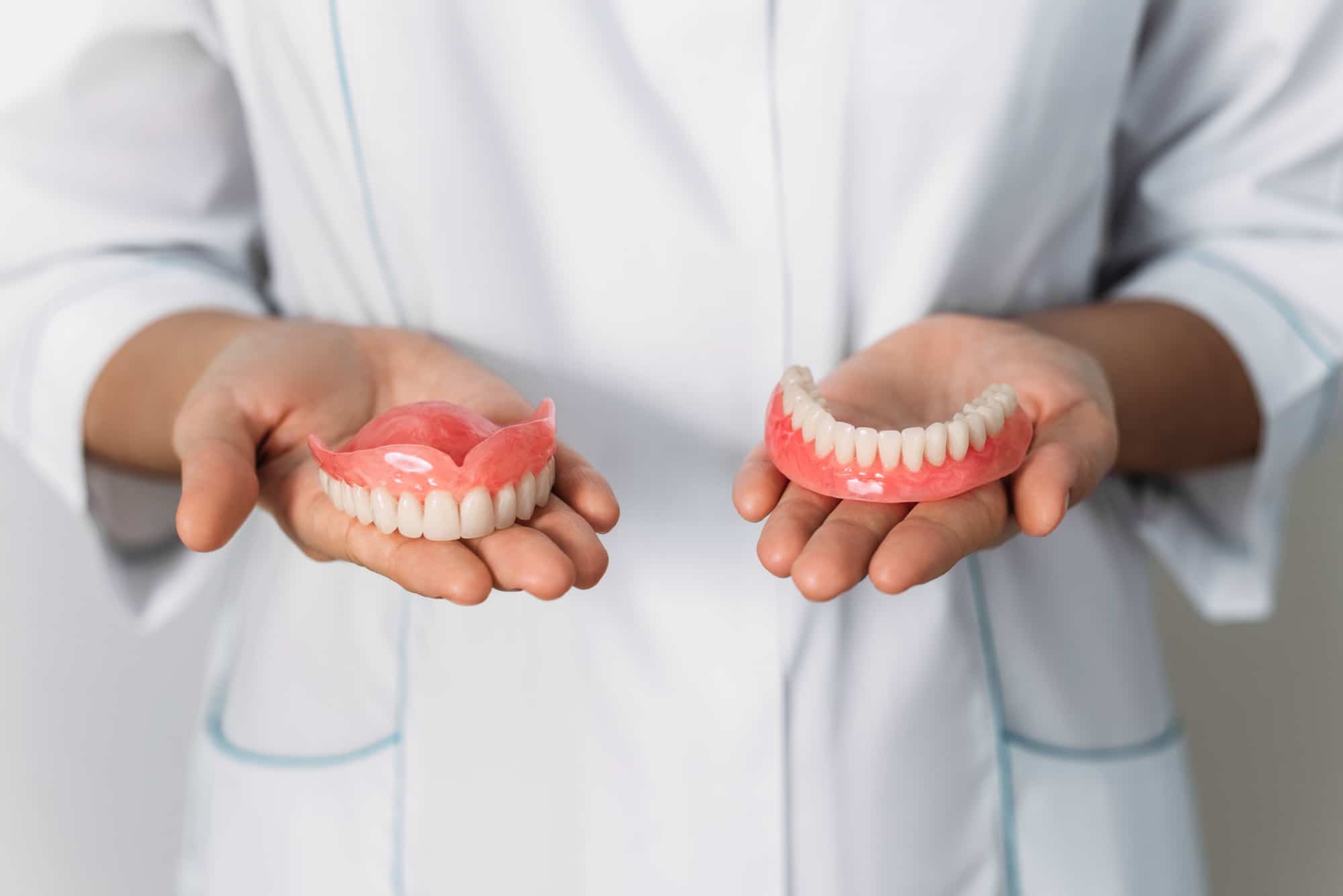 Maintaining clean dentures is imperative if you want to have optimal oral health. Here are some basic cleaning tips to prevent the buildup of food particles and plaque:
Brush your dentures at least once daily with a special denture brush and denture cleaning solution.
After removing your dentures, always clean your gums and tongue, whether it's with a toothbrush, mouthwash, or even rinsing with water.
Remove and rinse off your dentures after every meal or snack.
Always handle your dentures with care so that you don't accidentally drop them.
Soak your dentures in room-temperature water every night.
Schedule a routine checkup with our team twice a year or once every six months.